Back to Resources
GUIDE
A New Frontier: Authentic Employer Branding in a Remote Workforce
Fill out the form
Your employer brand is the story you tell to create a meaningful connection between people and your business. With the move to predominantly remote workspaces and cultures, those connections look unlike anything we've seen so far, and methods of creating employer brand content are evolving to meet the shifting needs that come with this 'new normal.'
You need a new game plan. When building your employer brand virtually, you'll need to consider the candidate's perspective, your employee's experience, and how they intersect.
DOWNLOAD THE GUIDE TO LEARN MORE ABOUT:
How to demonstrate authentic company culture in employer brand messaging and imagery while showcasing employee experience for remote workers
Tips for telling a consistent and compelling story throughout every interaction in the candidate journey
Ways to keep candidates engaged throughout a virtual interview process
How to strengthen the bonds of collaboration and communication on a team of remote workers scattered across different locations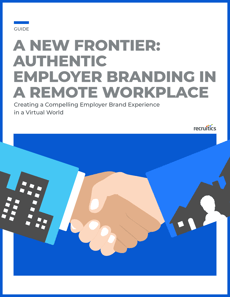 DOWNLOAD THE GUIDE TO LEARN MORE ABOUT ACHIEVING EMPLOYER BRANDING SUCCESS IN A REMOTE WORLD!