Back to Resources
GUIDE
Top Benefits & Trends For Programmatic Advertising
Fill out the form
Utilizing programmatic job advertising in a talent attraction strategy can be a great way to help an organisation identify a higher volume of candidates for hard-to-fill vacancies, build more robust talent pipelines, and maximize recruitment advertising ROI by providing more control over budget spend. Also, the actionable insights from programmatic allows organisations to use real-time data to make strategic decisions to maximize a campaign. When getting started on a programmatic journey or looking to make major improvements, figuring out where to start can be a challenge, but Recruitics can help!
DOWNLOAD THE GUIDE TO LEARN MORE ABOUT:
What programmatic job advertising is and why it's important
The benefits of implementing programmatic into recruitment marketing plans
How to use programmatic to attract top talent
Programmatic advertising trends to watch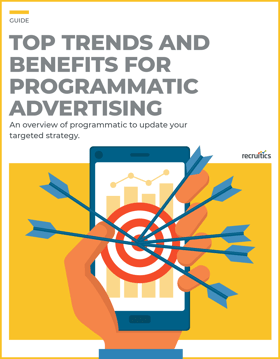 DOWNLOAD THE GUIDE TO DISCOVER THE BENEFITS OF USING PROGRAMMATIC JOB ADVERTISING IN YOUR RECRUITMENT STRATEGY!