Back to Resources
GUIDE
Employer Brand Crisis Messaging
Fill out the form
AN ACTION PLAN, DOS & DON'TS AND AN INTERACTIVE CHECKLIST
Brand messaging is an important part of an employer's strategy, and COVID-19 has created a critical and urgent need to address messaging during a crisis. Never before has there been a situation such as this, and many employers are looking for guidance and best practices on how to address these unprecedented times.
To help employers begin to approach crisis brand messaging from a talent acquisition perspective, Recruitics has created this eBook--along with a quick Action Plan, Dos and Don'ts and a Checklist--to help identify areas in the candidate journey that need to be addressed due to COVID-19.
This free resource includes:
What is Employer Brand Crisis Messaging?

Employer Brand Crisis Action Plan

Messaging Dos & Don'ts

Interactive Checklist

Additional Employer Brand Resources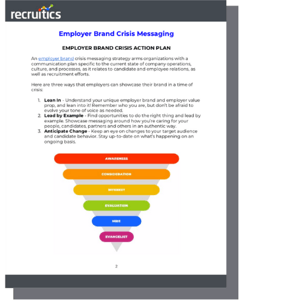 Fill out the form to get access to the eBook!