Back to Resources
GUIDE
High Volume Hiring: 5 Best Bets For Success
Fill out the form
BEST PRACTICES TO SHAPE YOUR RECRUITMENT RECOVERY
Are you working to recruit on-demand talent in high-volumes across several markets? You're likely faced with a specific set of challenges related to effectively scaling supply-side talent acquisition. Before any major recruitment initiatives, pre-planning can help ensure success.
HERE ARE 5 CONSIDERATIONS WHEN PREPARING FOR YOUR HIGH VOLUME RECRUITING CAMPAIGN:
Getting clear on the difference between source and sourcing to justify talent acquisition budgets.
Protecting your budget from overspending, wasting ad dollars, and misallocating resources.
Achieving maximum efficiency per dollar spent with market level, automated, goal-driven, candidate acquisition.
Using automation to rectify your sourcing issues and efficiently distribute positions via a streamlined budget.
Expanding your talent market by advertising across the world's top job sites.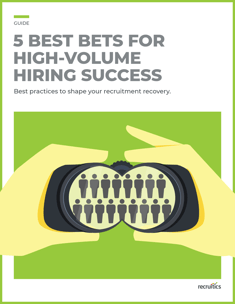 DOWNLOAD THE GUIDE TO ENSURE SUCCESS WITH YOUR NEXT HIGH VOLUME HIRING PUSH!