Back to Resources
GUIDE
The Future Of Retail: How To Attract Top Talent
Fill out the form
The current hiring landscape calls for the astute analysis of relevant metrics and sufficient agility to respond to change on the part of companies in retail. Talent acquisition professionals must be willing to think outside the box on an ongoing basis, continually seeking novel and innovative ways of attracting talent.
There are key areas that talent acquisition professionals working in retail should understand, including the importance of agility and the seasonality of the industry. But before any major recruitment initiatives get updated, companies should pre-plan to help ensure success.
DOWNLOAD THE GUIDE TO LEARN MORE ABOUT:
Retail industry trends to watch
Tips for how hiring professionals can update their recruitment strategies
How companies can fine-tune recruitment strategies for seasonality
The importance of focusing on retention strategies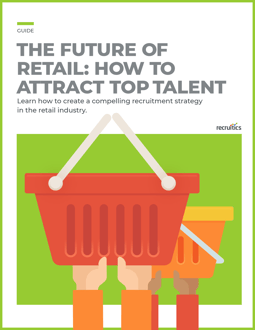 DOWNLOAD THE GUIDE TO CREATE A ROBUST RETAIL RECRUITMENT STRATEGY!