Back to Resources
GUIDE
The Ultimate Candidate Engagement Checklist
Fill out the form
Candidate engagement ideas to build & maintain a successful talent community.
In a competitive job market, building a talent network to engage and nurture candidates is an important way to increase your talent pipeline. Today, most organizations use digital platforms and rely heavily on email to communicate to candidates. However, maintaining a talent pool can come with its challenges and there are many oversights companies commonly make in their engagement efforts.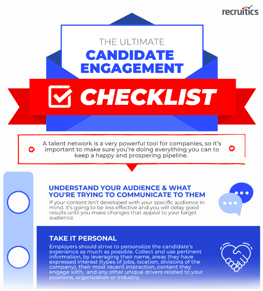 Complete the form on this page to download this free candidate engagement resource and get access to this checklist, to be sure you don't overlook key pieces of your talent acquisition strategy.
COMPLETE THE FORM TO ACCESS THE FULL CHECKLIST!